Not sure how to do your face up for that big Christmas party coming up, ladies? Well, the good news is you really can't go wrong this year!
No, really. I've noticed everything from the all-out bold-everything look to a relatively natural appearance with more of an emphasis placed on hair. There's the full-on classic red lips paired with smoky eyes and gold eye shadow look, the natural 'nude' look, and emerald green glitter eyes look that would make Dorothy Gale proud.
If you're interested in creating the perfect holiday look, join me as I go element by element in order to break down some of the major make-up trends this holiday season.

Gold/Bronze
An all-over look seems to be a winner. You can do this using a bronzer coupled with gold eye shadow and pale, shimmering lip gloss over a light pink or coral lip color. Finish your face off with a shimmery, all-over golden translucent powder.
Bright/Metallic/Glittery Eyes
It seems like anything goes this year in terms of color and sparkle for the eyes. One popular look is emerald green glitter eye shadow coupled with black eyeliner for a look that really pops! Another is using silver or gold shadow—either just a dab in the middle of your eyelid as a highlight, or a layer of shadow applied over your entire eyelid.
There are lots of jewel tones and bright pastel colors floating around in this season's palette. Try picking up a trendy glitter eye shadow and applying it to just the outer edges of your eyes and a portion of your lower lids. Or find a bright coral or cream colored shade to highlight your eyes for a bold party look.

Smoky Eyes
If you want a dramatic look, go for smoky eyes! There are plenty of tutorials out there on the web, so play around with a look that works for you!  Start with a grey or cream-colored shadow all over your lids, followed by liquid eyeliner to line your top lid, and then a soft coal-colored eyeliner to outline and smudge around each eye. Finish with dramatic black mascara or false eyelashes for a fun, bold finish that won't go unnoticed!

Cat Eyes
This look is similar to the smoky eye, but perhaps sans mascara, for a more modern look. Simply extend the end of the upper eye line out and up, angled toward the end of your eyebrow. If you take a pencil or coffee stirrer to form a line from the bottom of your nostril to the end of your eyebrow, you'll have the perfect angle. Here's a great tutorial on how to master the art of the cat eye: http://www.xovain.com/makeup/how-to-do-cat-eye-liner-tutorial.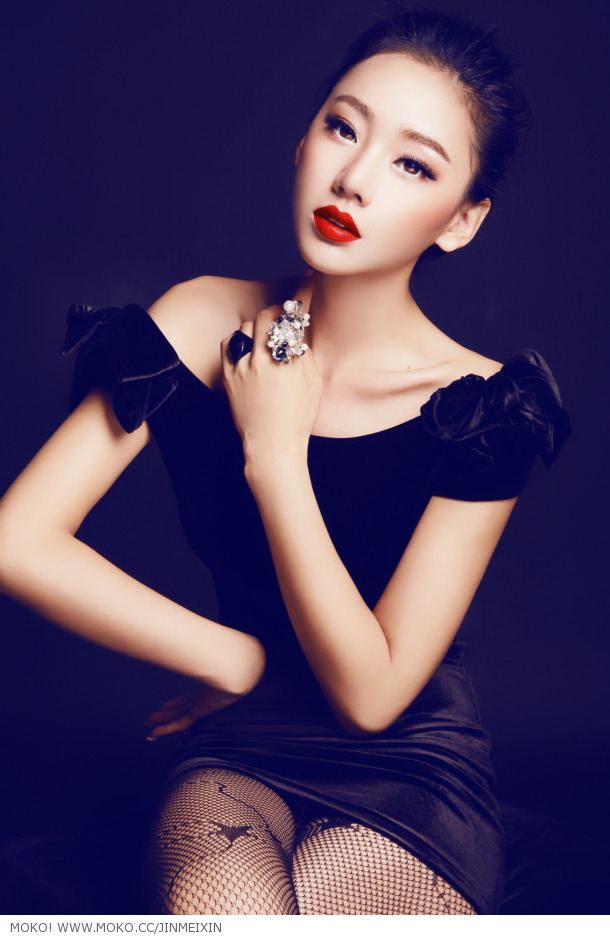 Red/Burgundy Lips
For a look that's sure-fire, go for the classic red lip. First, make sure your lips are moisturized by applying a lip balm after exfoliating them gently with an old toothbrush. This will ensure that there are no dry flakes of skin to distract your fellow party-goers, but it will also prevent your lips from drying out as a result of wearing a long-lasting matte lipstick. Go with a lipstick that lasts a long time, since red lipstick doesn't look its best if it is streaked or faded!
After applying lip balm, line and fill in your lips with lip liner. This will ensure that your lipstick sets well, and it prevents the color from bleeding from the edges of your lips. Finally, choose a high quality lipstick to apply over your lip liner. Try blotting your lips with tissue once, to set your lipstick, then reapply to help it last longer.
Although it used to be a rule that you should pick either bold lips or bold eyes, rather than both, this year it's considered trendy to do both, if you like. But if you want a more classic look, try bright red lips with only mascara and natural colored eye shadow—rather than a bold eye shadow shade—for a more retro look.  Lastly, try a burgundy shade if you're making up your eyes cat eye or smoky-style. It will make the look a bit more modern.
This holiday season, think glitter for your nails!  Metallic colors like silver, gold, and bronze are in.  Also, try mix and matching different nails on your hands with two different colors, like burgundy and gold—with the common element being large pieces of glitter.
However, don't worry if you decide to forego the glitter and bright colors.  There are plenty of festive looks left for you to try—with glitter or without.
Whatever you do, have fun!  It is the holiday season, after all. Here's wishing you a Christmas that's very merry and bright—with or without snow!