With Halloween just days away, I think it's imperative that we all forget the mad rush to squeeze in as much holiday craziness as possible and focus on doing the things that are the most fun for you.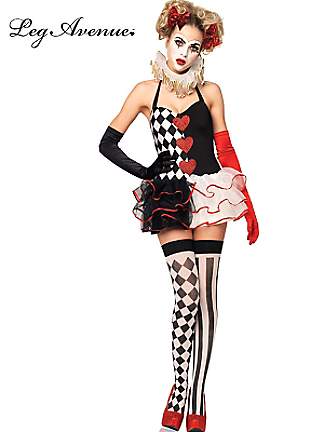 If you're like me, dressing up is a huge part of the fun of Halloween customs. And, when you're trying to create that perfect look for Halloween, accessories can make or break a costume. For instance, I saw the world's cutest clown costume for women, but without a swanky pair of black and white thigh-highs, the outfit loses some of its punch. The same is true for make-up, props, shoes or any other sweet little accessory. A complete look for the holiday is one that is pulled together, so as you create your costume, keep that in mind. Afterall, what's a masquerade costume without a mask?
You know the saying, "Blondes have more fun"? I couldn't disagree more, not because I'm a blonde and it's a cliche, but because why limit fun to just one hair color!? Maybe it's more fun to be have blue hair, or pink, purple or orange!? I am talking about costume wigs, of course. The perfect wig will complete an outfit, almost more than any other, so don't skip this accessory. The same goes for make-up…is there such a thing as a costume that looks great sans hair and makeup? (Well, other than the questionably oriented gym teacher we all had from high school…you know with the androgynous look, mullet and tennis outfit?)
So, folks, take a cue from Gwenyth Paltrow when she said, "Beauty, to me, is about being comfortable in your own skin. That, or a kick-ass red lipstick."
Emma Rae Curtis is a costume, dressing-up, makeup and accessories expert. She mainly writes about fun Halloween party, craft, and costume ideas, but she especially loves writing about all things costume and dress-up related.